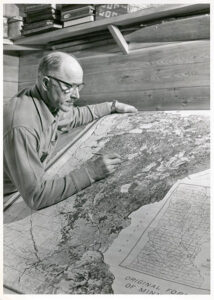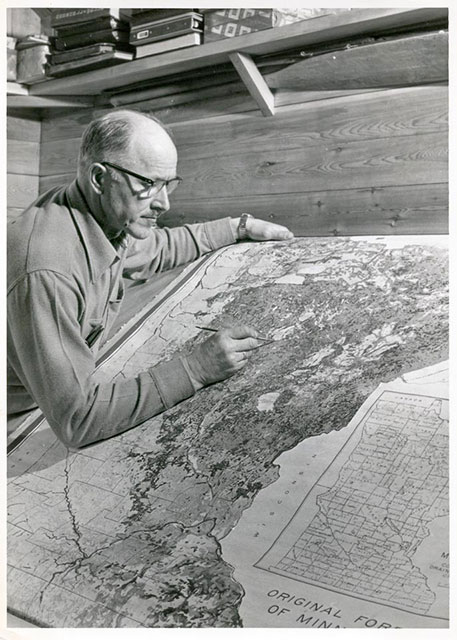 Unique series of 46 Composite Maps of the US Land Surveyors' Plats and Field Notes with land features as noted at the time of the original surveys
In 1956, an attorney who represented Native American tribes asked Bill Trygg, Sr., if he could determine the original logging areas in northern Minnesota as well as the amount and value of that timber as of 1855. Bill accepted the challenge, which led to historical appraisals in Minnesota, Wisconsin and Michigan to obtain adjustments to what the tribes had been paid when their lands were ceded, often 100 years before. This work involved a dedicated team of employees who gathered and analyzed historical data to produce the valuations, reports and exhibits for testimony before the Native American Claims Commission in Washington, D.C.
The maps include features from pre-settlement times such as trails, roads, houses and buildings, Native American Villages, sugar camps, mill sites, fields, prairies, wetlands, marshes, lakes, and rivers, as noted by U.S. Land Surveyors when the first surveys were done (approximately 1832-1907.) Read more about the maps here.
How to Order Historical Maps
Maps are approximately 17″ x 22" and are $15 each section.  Buy 5 or more individual maps and get a 20% discount!
To order, click on the section of the large map below to select the individual maps you would like to order or shop maps from each state.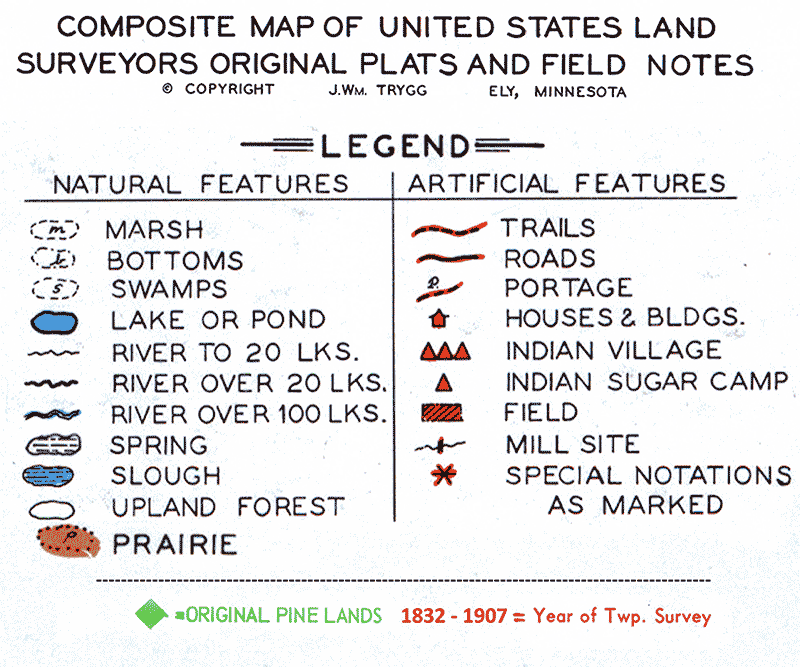 TRYGG COMPOSITE MAPS – compiled from Original Survey data & other documentary sources. 46 maps cover Minnesota, parts of Wisconsin, Michigan, Iowa and parts of South Dakota.
Green shading as noted on the index, a limited number of maps are available with green shading to show the pine lands when the land was first surveyed.
Bill Trygg Sr. was born in Cook, Minnesota in 1905 to Swedish immigrants who were among the first pioneers in that area. He began working for the U.S. Forest Service in 1926, became a Professional Forester and was the Kawishiwi District Ranger in Ely from 1942 to 1954. In 1955 Bill started his own business and offered forestry consulting, real estate, and appraisal services. Read more about Bill Trygg, Sr. here.